Please be sure to read the regulations of use before visiting.
Please read this before using the golf course, and we ask for your cooperation so that everyone can enjoy playing.
Attire for arriving and leaving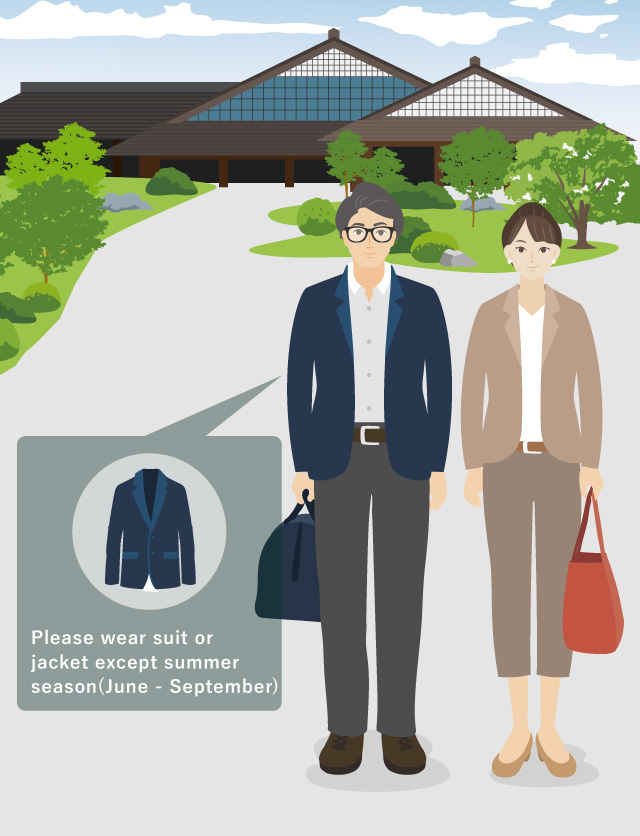 Please refrain from wearing
・Sneakers

・Athletic shoes
Attire for golf playing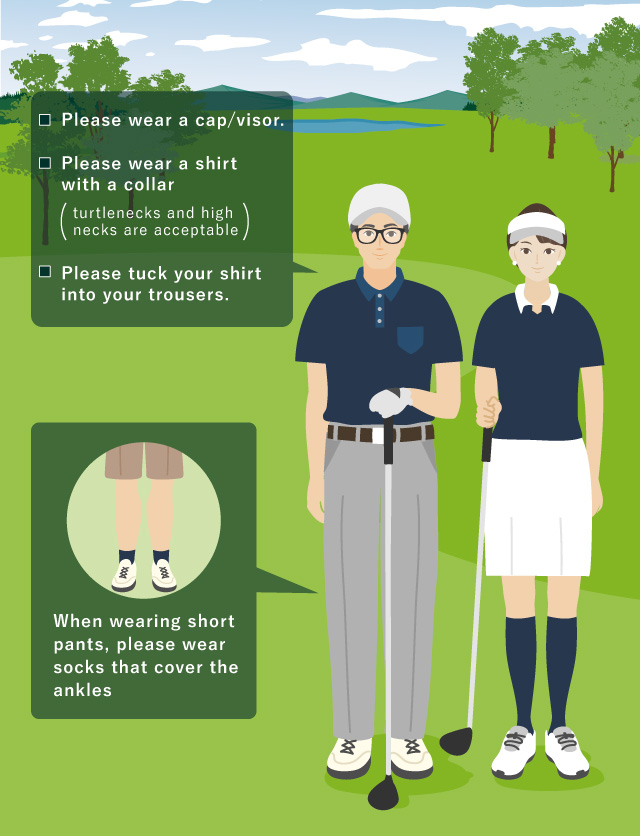 Please refrain from wearing
・Put a towel around your neck
1.In the clubhouse

・Please complete your arrival and reception at least 1 hour before the tee off time.
・Please be sure to switch your mobile phone to silent mode.
・Please refrain from using mobile phones in the restaurant.
2.In playing on the golf course

・Please be careful not to separate from the front group in consideration of the play first.
・Please be quiet when your companion enters the address.
・When swinging or shooting, please pay close attention to your surroundings.
・If you feel that the shot is dangerous to other people, please immediately say "Fore" in a loud voice.
・To prevent hitting, never hit when the green caster (caddie) stops or when there is a possibility of hitting the front set.
Also, please leave the green of the hole you have finished playing as soon as possible.
・When searching for a ball, let the following player pass depending on the situation.
・Make sure that the bunker shot is left flat by the player.
・Please cooperate in repairing ball marks on the green.
・Be careful not to damage the green with spikes or flag poles.
・For the divot of the shot mark, please fill in the soil by yourself.
・Smoking on the course is only allowed in the designated area (tee ground).
3.Other notes

*If any of the following apply, the use of the golf course facilities will be prohibited and membership will be revoked.
・When the golf course decides that the use of the member or companion is not desired.
・When you find a violation of manners, etiquette, etc. or when reported.
・When the companion has a tattoo.
・If the accompanying person is suspected of being an organized crime group-related company or organization, or anti-social forces equivalent to these.(This includes cases where it is confirmed after the day of play.)
*If any of the following apply, we may refuse to make a reservation for play, enter the venue, etc.
・If any of the above items apply. (Including cases where it becomes clear after playing)
・When it turns out that the act is contrary to public order and morals.